1st Zuì Bàng!

Chinese edition
Album by

Ice Creamusume

Native title
1st最棒!
Released
January 9, 2009 (Taiwan)
January 31, 2009 (Japan)
Genre
Pop
Format
CD+DVD, digital download
Recorded
2008
Length
29:33
Language
Chinese, Japanese
Label
Forward Music
Producer
Tsunku
Other Covers

Japanese edition (1st Saikou!)
1st Zuì Bàng! (1st最棒!;1st Best!), released as 1st Saikou! (1st最高!;1st Awesome!) in Japan, is Ice Creamusume's debut album. It was released on January 9, 2009 in Taiwan and January 31, 2009 in Japan. The mini-album consists mostly of Mandarin versions of existing Hello! Project songs, but it does include two Japanese tracks and an original song. The Taiwan Limited Edition comes with a bonus DVD.
Ice Creamusume was the first group to release "Ame no Furanai Hoshi de wa Aisenai Darou?" on a CD. The Mandarin title of the track also holds the record for the longest title of a Chinese song, with 20 characters in total.
Tracklist
Edit
Taiwanese Version
Edit
CD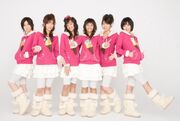 Lian Ai Deng Chang (戀愛登場; Entering Love)
Zao An Ka Fei (早安咖啡; Morning Coffee) (Morning Musume cover)
Zai Mei You Yu Shui Zi Run De Zing Qui Shang Shi Wu Fa Fu Chu Ai De Ba? (在沒有雨水滋潤的星球上是無法付出愛的吧?; If It Doesn't Rain, Will the Stars Not Love?) (Morning Musume cover)
Lian Ai Ge Ming 21 (戀愛革命21; Love Revolution 21) (Morning Musume cover)
Go Girl ~Lian Ai Sheng Li~ (Go Girl~戀愛勝利~; Go Girl ~Love's Victory~) (Morning Musume cover)
Debut! ~Lian Ai De Zhuan Jiao Hui You Hao Yun Jiang Lin~ (Japanese Ver.) (Debut!~戀愛的轉角會有好運降臨~ (日文版); Debut! ~Love Will Fall in Luck's Corner~ (Japanese Ver.))
Zao An Ka Fei (Japanese Ver.) (Morning Musume cover)
DVD
Bīngqílín Zhìzào Guòchéng (冰淇淋製造過程; Ice Cream Manufacturing Process)
Japanese Version
Edit
Debut! ~Koisuru Kado ni wa Fuku Kitaru~ (Chinese Ver.) (デビュー!~恋する角には福来る~(中国語Ver.))
Morning Coffee (Chinese Ver.) (モーニングコーヒー(中国語Ver.)) (Morning Musume cover)
Ame no Furanai Hoshi de wa Aisenai Darou? (Chinese Ver.) (雨の降らない星では愛せないだろう?(中国語Ver.); If It Doesn't Rain, Will the Stars Not Love?) (Morning Musume cover)
Ren'ai Revolution 21 (Chinese Ver.) (恋愛レボリューション21(中国語Ver.); Love Revolution 21) (Morning Musume cover)
Go Girl ~Koi no Victory~ (Chinese Ver.) (Go Girl ~恋のヴィクトリー~(中国語Ver.); Go Girl ~Love's Victory~) (Morning Musume cover)
Debut! ~Koisuru Kado ni wa Fuku Kitaru~ (デビュー!~恋する角には福来る)
Morning Coffee (モーニングコーヒー) (Morning Musume cover)
Featured Members
Edit
External Links
Edit