1997 was the year in which Heike Michiyo won the Sharam Q Rock Vocalist Audition and Morning Musume was formed.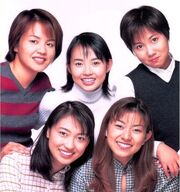 Auditions
Edit
April to August: ASAYAN Sharam Q Produced Josei Rock Vocalist Audition (ASAYAN シャ乱Qブロデュース 女性ロックヴォーカリスト オーディション; ASAYAN Sharam Q Produced Female Rock Vocalist Audition)
September 14: Morning Musume appeared on ASAYAN and Tsunku revealed their group name. The official birth of "Morning Musume."
Ad blocker interference detected!
Wikia is a free-to-use site that makes money from advertising. We have a modified experience for viewers using ad blockers

Wikia is not accessible if you've made further modifications. Remove the custom ad blocker rule(s) and the page will load as expected.