Ad blocker interference detected!
Wikia is a free-to-use site that makes money from advertising. We have a modified experience for viewers using ad blockers

Wikia is not accessible if you've made further modifications. Remove the custom ad blocker rule(s) and the page will load as expected.
④ Akogare My STAR (④憧れ My STAR; ④ My Admirable STAR) is the 4th studio album by ℃-ute. The album was released on January 28, 2009. The album was released in both limited and regular editions; the limited coming with a bonus DVD. It sold 13,724 copies. This is the last album to feature and credit Umeda Erika and Arihara Kanna.
Tracklist
Edit
★Akogare My STAR★ (★憧れ My STAR★; My Admirable Star)
One's LIFE - Umeda Erika, Okai Chisato, Hagiwara Mai
Yes! all my family - Suzuki Airi
Namida no Iro (涙の色; Color of Tears)
Aishiteru Aishiteru (愛してる 愛してる; I Love You, I Love You) - Nakajima Saki, Arihara Kanna
Seishun Song (青春ソング; Youth Song) - Yajima Maimi
Big dreams
SHINES
Yakusoku wa Toku ni Shinai wa (約束は特にしないわ; The Promise I Couldn't Keep)
Edo no Temari Uta II (江戸の手毬唄II; Edo Handball Song II)
Limited Edition DVD
Edit
℃-ute Interviewer ni Chousen! (℃-ute インタビュアーに挑戦!; Interviewer Challenge!)
Jacket Making + Kyoufu no Hako (ジャケット撮影メイキング + 恐怖の箱; Scary Box)
Cutie Girls Kiki Ippatsu (キューティーガールズ危機一髪; Cutie Girls' Close Call)
Ending (エンディング)
Featured Members
Edit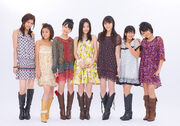 Concert Performances
Edit
★Akogare My STAR★
One's LIFE
Yes! all my family
Aishiteru Aishiteru
Seishun Song
Big dreams
SHINES
Yakusoku wa Toku ni Shinai wa
Album Information
Edit
★Akogare My STAR★
One's LIFE

Lyrics and Composition: Tsunku
Arrangement: AKIRA

Yes! all my family
Aishiteru Aishiteru
Seishun Song
Big dreams
SHINES
Yakusoku wa Toku ni Shinai wa
| Mon | Tue | Wed | Thu | Fri | Sat | Sun | Week Rank | Sales |
| --- | --- | --- | --- | --- | --- | --- | --- | --- |
| - | 5 | 9 | 15 | 27 | 30 | 44 | 13 | 11,327 |
| 38 | - | - | - | - | - | - | 93 | 1,585 |
| - | - | - | - | - | - | - | 168 | 812 |
Total Reported Sales: 13,724
External Links
Edit
℃-ute
Concerts & Events

Concerts

Spring Tours: 2007 (Hajimatta yo! Cutie Show, Golden Hatsu Date) | 2009 | 2010 | 2011 | 2012 | 2013 | 2014 | 2015 | 2016


Summer Tours: 2008 | 2009 | 2010
Fall Tours: 2007 | 2013 (Budokan, Regular Tour) | 2014 | 2015 | 2016
Winter Tours: 2012-2013 | 2017
Other: 2006 | 2007 | 2008 (LOVE Escalation!, ℃-ute no Hi) | 2009 (℃-ute no Hi, FIVE) | 2010 | 2011 (Kiss me Aishiteru, ℃-ute no Hi) | 2012 | 2013 | 2014 (Spring Naruchika, Taipei, ℃-ute no Hi, Fall Naruchika) | 2015 (Spring Naruchika, ℃-ute no Hi, Mexico, Winter Naruchika) | 2016 (Hong Kong & Taipei) | 2017 (Naruchika)

Other Concerts & Events
Joint Concerts
Spring Tours: 2008 (with Berryz Koubou) | 2011 (with S/mileage)


Fall Tours: 2011 (with Berryz Koubou) | 2013 (with S/mileage)
Other: 2014 (with Berryz Koubou)

Hello! Project Concerts
Summer Tours: 2009 | 2010 | 2011 (WOW WOW, YEAH YEAH) | 2012 (Ktkr, Wkwk) | 2013 (Sorezore!, Mazekoze!) | 2014 | 2015 | 2016


Winter Tours: 2010 (Mobekimasu!) | 2011 (A-gana, B-kkuri) | 2012 (Funky-chan, Rock-chan) | 2013 (Viva!, Bravo!) | 2014 (GOiSU MODE, DE-HA MiX) | 2015 | 2016 | 2017
Hina Fest: 2013 (Zen'yasai, Berryz Koubou 10 Nenme Totsunyuu Special, Thank You For Your Love!) | 2014 | 2015 | 2016
Other Concerts: Hello! Project ☆ Festival 2011 | Hello! Project Yaon Premium Live ~Soto Fest~ | Hello! Project COUNTDOWN PARTY 2013 ~GOOD BYE & HELLO!~ | Hello! Project COUNTDOWN PARTY 2014 ~GOOD BYE & HELLO!~ | Berryz Koubou Matsuri | Hello! Project COUNTDOWN PARTY 2015 ~GOOD BYE & HELLO!~