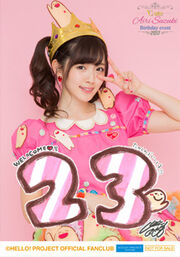 ℃-ute Suzuki Airi Birthday Event 2017 (℃-ute 鈴木愛理バースデーイベント2017) is Suzuki Airi's 23rd birthday event. Two events took place at Differ Ariake on April 24, 2017.
The deadline to pre-order the fanclub-exclusive DVD was on June 28, 2017[1] and it was released to fanclub members on August 26, 2017.
Suu-san Impromptu (with Taguchi Natsumi as a back dancer)
MC
Hoshi no Hitsujitachi (with Taguchi Natsumi as a sheep)
MC - VTR message from Takahashi Ai (2nd event)
VTR
Performance Varies

1st Event: BREAK OUT! (Aikawa Nanase)
2nd Event: Yumemiru Shoujo ja Irarenai (Aikawa Nanase)

MC
Urayanjau (with Taguchi Natsumi as a back dancer)
FIRST KISS
Encore
Yes! all my family (with Taguchi Natsumi as a back dancer)
Featured Members
Edit
Event Schedule
Edit
Date
Venue
Prefecture
Doors Open
Event Starts
4/24
Differ Ariake
Tokyo
15:45
16:45
19:00
20:00
References
Edit
External Links
Edit
Ad blocker interference detected!
Wikia is a free-to-use site that makes money from advertising. We have a modified experience for viewers using ad blockers

Wikia is not accessible if you've made further modifications. Remove the custom ad blocker rule(s) and the page will load as expected.