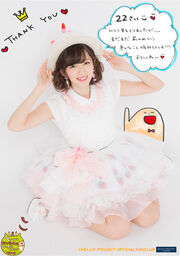 ℃-ute Suzuki Airi Birthday Event 2016
(℃-ute 鈴木愛理バースデーイベント2016) is
Suzuki Airi
's 22nd birthday event. Two events were held on April 12, 2016 at Zepp Tokyo.
The first event was titled "Suu no Kai" (すーの会) and the second event was titled "San. no Kai" (さん。の会).
The deadline to pre-order the fanclub-exclusive DVD is June 27, 2016.
Suu no Kai
SAKURA (Ikimono-gakari)
Harukaze (Rihwa)
San. no Kai
My alright sky
Ashita e no Tegami (Teshima Aoi)
Harukaze (Rihwa)
Lady Mermaid
Urayanjau
Onna Day by Day
Featured Members
Edit
Event Schedule
Edit
Date
Venue
Prefecture
Doors Open
Event Starts
4/12
Zepp Tokyo
Tokyo
16:30
17:15
19:00
19:45
The covers of "SAKURA," "Harukaze," and "Ashita e no Tegami" will not be included in the fanclub DVD.[1]
Birthday DVDs
Edit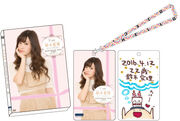 ℃-ute Suzuki Airi Birthday DVD 2016 (℃-ute 鈴木愛理 バースデーDVD 2016) was a DVD magazine released on April 9, 2016 at her birthday event and through e-LineUP!.
References
Edit
↑ "♡22歳!!!(あいり)" (in Japanese). ℃-ute Official Blog. 2016-04-13.
External Links
Edit
Ad blocker interference detected!
Wikia is a free-to-use site that makes money from advertising. We have a modified experience for viewers using ad blockers

Wikia is not accessible if you've made further modifications. Remove the custom ad blocker rule(s) and the page will load as expected.