℃-ute Debut Tandoku Concert 2007 Haru ~Hajimatta yo! Cutie Show~
Comments

0
Share
Ad blocker interference detected!
Wikia is a free-to-use site that makes money from advertising. We have a modified experience for viewers using ad blockers

Wikia is not accessible if you've made further modifications. Remove the custom ad blocker rule(s) and the page will load as expected.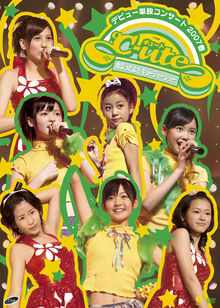 ℃-ute Debut Tandoku Concert 2007 Haru ~Hajimatta yo! Cutie Show~
(℃-ute デビュー単独コンサート2007春~始まったよ! キューティーショー~) was
℃-ute
's 2007 Spring concert. The concert DVD was filmed on February 25, 2007 at Nippon Seinenkan. It was released on April 18, 2007. The photobook for the concert was released on April 11, 2007.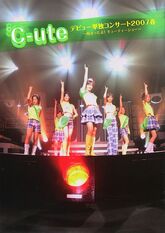 The DVD ranked at #3 on Oricon's DVD chart and sold a total of 8,299 copies.
Featured Members
Edit
OPENING
JUMP
MC1
EVERYDAY YEAH! Kataomoi (EVERYDAY YEAH!片想い)
MC2
Soku Dakishimete (即 抱きしめて)
YES! Shiawase (YES!しあわせ)
MC3 Cutie Girls Cont (キューティーガールズコント) - Suzuki Airi, Okai Chisato, Hagiwara Mai
Aenai Nagai Nichiyoubi (会えない長い日曜日) - Okai Chisato, Hagiwara Mai
Sayonara no LOVE SONG (サヨナラのLOVE SONG) - Suzuki Airi
Cutie Medley (キューティーメドレー)
Mirakururun Grand Purin! (ミラクルルン グランプリン!)
Chokotto LOVE (ちょこっとLOVE) - Nakajima Saki, Suzuki Airi, Okai Chisato
Otome Pasta ni Kandou (乙女 パスタに感動) - Umeda Erika, Yajima Maimi, Hagiwara Mai, Arihara Kanna then ℃-ute
VTR Corner (VTRコーナー)
Wakkyanai (Z) (わっきゃない(Z))
Time Capsule (タイムカプセル)
Sakura Chirari (桜チラリ)
Ooki na Ai de Motenashite (大きな愛でもてなして)
Massara Blue Jeans (まっさらブルージーンズ)
External Links
Edit