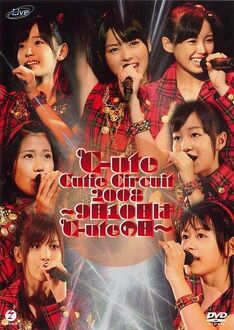 ℃-ute Cutie Circuit 2008 ~9gatsu 10ka wa ℃-ute no Hi~ (℃-ute Cutie Circuit 2008~9月10日は℃-uteの日~) is ℃-ute's 2008 Cutie Circuit concert. It was released on December 17, 2008
The DVD ranked at #9 on Oricon's DVD chart in it's first week and sold a total of 7,349 copies.
Members featured in this release
Edit
Track listing
Edit
Cutie Girls' Corner (キューティーガールズのコーナー)
OPENING
Shiritsu Kyougaku (私立共学)
MC
YES! Shiawase (YES! しあわせ)
Ooki na Ai de Motenashite (大きな愛でもてなして)
Darling I LOVE YOU (ダーリン I LOVE YOU)
Skit "Wasuretakunai Natsu..." (寸劇「忘れたい夏...」)
DJ Maimai, MC Chisaa, and MC Kappa's Corner (DJマイマイ・MCチッサー&MCカッパーのコーナー)
Soku Dakishimete (即 抱きしめて)
Bishoujo Shinri (美少女心理)
MC
Homerare Nobiko no Theme Kyoku (ほめられ伸び子のテーマ曲)
Namida no Iro (涙の色)
MC
Massara Blue Jeans (まっさらブルージーンズ)
<ENCORE>
Edo no Temari Uta II (江戸の手毬唄II)
Tokaikko Junjou (都会っ子 純情)
MC
"Wasuretakunai Natsu" (「忘れたくない夏」)
External Links
Edit
Ad blocker interference detected!
Wikia is a free-to-use site that makes money from advertising. We have a modified experience for viewers using ad blockers

Wikia is not accessible if you've made further modifications. Remove the custom ad blocker rule(s) and the page will load as expected.