Ad blocker interference detected!
Wikia is a free-to-use site that makes money from advertising. We have a modified experience for viewers using ad blockers

Wikia is not accessible if you've made further modifications. Remove the custom ad blocker rule(s) and the page will load as expected.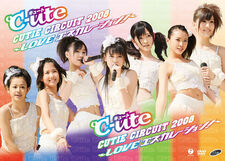 Cutie Circuit 2008 ~LOVE Escalation!~ (Cutie Circuit 2008~LOVE エスカレーション!~) was ℃-ute's 2008 Cutie Circuit concert to promote their 3rd studio album, 3rd ~LOVE Escalation!~. The concert DVD was filmed on April 5, 2008 at Yomiuri Land EAST. It was released on July 2, 2008.
The DVD ranked at #4 on Oricon's DVD chart and sold a total of 7,859 copies.
Cutie Girls Cont (キューティーガールズコント) - Suzuki Airi, Okai Chisato, Hagiwara Mai
Opening SE (オープニングSE)
Homerare Nobiko no Theme Kyoku (ほめられ伸び子のテーマ曲)
MC1
Sweeeets→→→Live (スイーーツ→→→ライブ) - Okai Chisato, Arihara Kanna
Hare no Platinum Doori (晴れのプラチナ通り) - Nakajima Saki, Hagiwara Mai
Image Color (イメージカラー ) - Yajima Maimi, Suzuki Airi
Saikoukyuu no Enjoy GIRLS (最高級のエンジョイGIRLS)
Tension Ageko's Corner (MC2 テンション上げ子のコーナー)
Do Don ga Don Ondo (ドドンガドン音頭) - Tension Ageko with ℃-ute Gasshoudan
Namida no Iro (涙の色)
LALALA Shiawase no Uta (LALALA 幸せの歌)
MC4
Massara Blue Jeans (まっさらブルージーンズ )
Ooki na Ai de Motenashite (大きな愛でもてなして )
Tokaikko Junjou (都会っ子 純情 )
<ENCORE>
MC5
Ending (エンディング)
Extras:
℃-ute Live Chokugo no Dai Hanseikai!! (℃-uteライブ直後の大反省会!! )
Handshake Event Making of (握手会メイキング)
Featured Members
Edit
External Links
Edit