℃-ute Concert Tour 2010 Natsu Aki ~Dance Special!! "Chou Uranaito!!"~
Comments

0
Share
Ad blocker interference detected!
Wikia is a free-to-use site that makes money from advertising. We have a modified experience for viewers using ad blockers

Wikia is not accessible if you've made further modifications. Remove the custom ad blocker rule(s) and the page will load as expected.
℃-ute Concert Tour 2010 Natsu Aki ~Dance Special!! "Chou Uranaito!!"~ (℃-uteコンサートツアー2010夏秋〜ダンススペシャル!!「超占イト!!」〜) is ℃-ute's 2010 Summer-Fall concert tour. The DVD (EPBE-5397) was released December 22, 2010. The blu-ray was released on February 23, 2011.
The DVD ranked at #22 on and sold a total of 4,277 copies. The blu-ray ranked at #38 and sold 1,017 copies.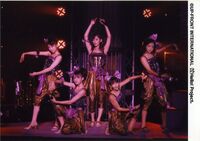 Disco Queen / Member Introduction
MC1 – Self Intro, Fortune Telling corner - led by Hagiwara Mai
MC2 - Omikuji Talk - Yajima Maimi & Nakajima Saki
Special Dance Medley
VTR Eizou ~Tokumei Butai Night~ (VTR映像 ~特命部隊ナイト~; VTR Footage ~Mission Unit Night~)
MC3 -Twitter Notes (Suzuki, Okai, Hagiwara, led by Suzuki)
MC4
Natsu DOKI Lipstick
Encore
MC5
Featured Members
Edit
| Mon | Tue | Wed | Thu | Fri | Sat | Sun | Week Rank | Sales |
| --- | --- | --- | --- | --- | --- | --- | --- | --- |
| - | 16 | 19 | x | x | x | x | 22 | 3,861 |
| x | x | x | x | x | x | x | x | x,xxx |
Total Reported Sales: 3,861*
External Links
Edit
℃-ute
Concerts & Events

Concerts

Spring Tours: 2007 (Hajimatta yo! Cutie Show, Golden Hatsu Date) | 2009 | 2010 | 2011 | 2012 | 2013 | 2014 | 2015 | 2016


Summer Tours: 2008 | 2009 | 2010
Fall Tours: 2007 | 2013 (Budokan, Regular Tour) | 2014 | 2015 | 2016
Winter Tours: 2012-2013 | 2017
Other: 2006 | 2007 | 2008 (LOVE Escalation!, ℃-ute no Hi) | 2009 (℃-ute no Hi, FIVE) | 2010 | 2011 (Kiss me Aishiteru, ℃-ute no Hi) | 2012 | 2013 | 2014 (Spring Naruchika, Taipei, ℃-ute no Hi, Fall Naruchika) | 2015 (Spring Naruchika, ℃-ute no Hi, Mexico, Winter Naruchika) | 2016 (Hong Kong & Taipei) | 2017 (Naruchika)

Other Concerts & Events
Joint Concerts
Spring Tours: 2008 (with Berryz Koubou) | 2011 (with S/mileage)


Fall Tours: 2011 (with Berryz Koubou) | 2013 (with S/mileage)
Other: 2014 (with Berryz Koubou)

Hello! Project Concerts
Summer Tours: 2009 | 2010 | 2011 (WOW WOW, YEAH YEAH) | 2012 (Ktkr, Wkwk) | 2013 (Sorezore!, Mazekoze!) | 2014 | 2015 | 2016


Winter Tours: 2010 (Mobekimasu!) | 2011 (A-gana, B-kkuri) | 2012 (Funky-chan, Rock-chan) | 2013 (Viva!, Bravo!) | 2014 (GOiSU MODE, DE-HA MiX) | 2015 | 2016 | 2017
Hina Fest: 2013 (Zen'yasai, Berryz Koubou 10 Nenme Totsunyuu Special, Thank You For Your Love!) | 2014 | 2015 | 2016
Other Concerts: Hello! Project ☆ Festival 2011 | Hello! Project Yaon Premium Live ~Soto Fest~ | Hello! Project COUNTDOWN PARTY 2013 ~GOOD BYE & HELLO!~ | Hello! Project COUNTDOWN PARTY 2014 ~GOOD BYE & HELLO!~ | Berryz Koubou Matsuri | Hello! Project COUNTDOWN PARTY 2015 ~GOOD BYE & HELLO!~