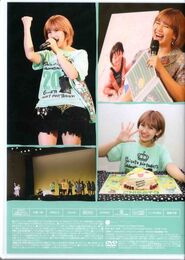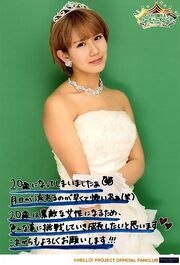 ℃-ute Chisato Okai Birthday Event 2014 (℃-ute岡井千聖バースデーイベント2014) is a fanclub DVD by Okai Chisato. It features her 20th birthday event at Yamano Hall in Tokyo on June 21, 2014. The DVD will be sold only to Hello! Project Fanclub and has a deadline to be ordered by September 26, 2014.
Kacchoii Uta
Onegai Miwaku no Target
Ai (Sukima Switch cover)
Romantic Ukare Mode (Fujimoto Miki makes a surprise appearance)
Ashita mo (MUSH. & CO.)
ENCORE
Bokura no Kagayaki
dearest.
Romantic Ukare Mode
Akai Freesia
Yasashisa de afureru you ni (JUJU cover)
Kacchoii Uta
Ashita mo (MUSH. & CO.)
ENCORE
dearest.
MC - Chisato cries reading a letter from her mom
Bokura no Kagayaki
Yajima Maimi and Hagiwara Mai were watching from the audience seats.
Okai Chisato's family were also watching from audience seats.
Okai Chisato sung Kanashiki Heaven with fan.
External Links
Edit
Ad blocker interference detected!
Wikia is a free-to-use site that makes money from advertising. We have a modified experience for viewers using ad blockers

Wikia is not accessible if you've made further modifications. Remove the custom ad blocker rule(s) and the page will load as expected.