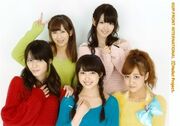 ℃-ute Birthday Kikaku "3nin de Birthday Event Yacchaimasu! Datte Watashitachi 2gatsu Umare Nandesu mon! Part 3" (℃-ute バースデー企画「3人でバースデーイベントやっちゃいます!だって私たち2月生まれなんですもん!Part3」) is a fanclub and birthday event by ℃-ute, celebrating Yajima Maimi's 20th birthday, Nakajima Saki's 18th birthday and Hagiwara Mai's 16th birthday. It took place on February 4, 2012 at Yokohama BLITZ and February 5, 2012 at Mido Kaikan.
The DVD was sold through the Hello! Project Fanclub and had a deadline to be ordered by April 27, 2012. The DVD was released in June 2012.
Featured Members
Edit
MC Self-introduction greeting, birthday special project, image survey game, Darts de Bakoon, Happy Birthday song
VTR - Congratulations message
Robo Kiss - Nakajima Saki, Hagiwara Mai
16sai no Koi Nante - Yajima Maimi, Hagiwara Mai
Inshouha Renoir no You ni - Yajima Maimi, Nakajima Saki, Hagiwara Mai
Ookii Hitomi - Yajima Maimi, Nakajima Saki, Hagiwara Mai
External Links
Edit
Ad blocker interference detected!
Wikia is a free-to-use site that makes money from advertising. We have a modified experience for viewers using ad blockers

Wikia is not accessible if you've made further modifications. Remove the custom ad blocker rule(s) and the page will load as expected.