℃-ute & S/mileage Premium Live 2011 Haru ~℃ & S Collaboration Daisakusen~
Comments

0
Share
Ad blocker interference detected!
Wikia is a free-to-use site that makes money from advertising. We have a modified experience for viewers using ad blockers

Wikia is not accessible if you've made further modifications. Remove the custom ad blocker rule(s) and the page will load as expected.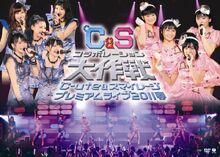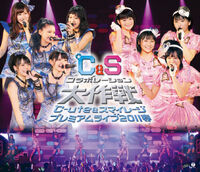 ℃-ute & S/mileage Premium Live 2011 Haru ~℃ & S Collaboration Daisakusen~ (℃-ute & スマイレージ プレミアムライブ2011春~℃&Sコラボレーション大作戦~) is ℃-ute and S/mileage's joint 2011 Spring concert tour. The DVD for the concert was released on July 13, 2011, the Blu-ray version was released on August 3, 2011.
The DVD ranked at #6 and sold 4,077 copies, the Blu-ray ranked at #22 and sold 1,494 copies.
Tracklist
Edit
OPENING
MC1
Koi ni Booing Buu! (S/mileage)
Kiss me Aishiteru (℃-ute)
Aitai Lonely Christmas (℃-ute)
Short Cut (S/mileage)
MC2
Otona ni Narutte Muzukashii!!! (Suzuki Airi, Okai Chisato, Wada Ayaka, Maeda Yuuka)
Meguru Koi no Kisetsu (Yajima Maimi, Nakajima Saki, Hagiwara Mai, Fukuda Kanon, Ogawa Saki)
MC3
Shooting Star (Wada Ayaka, Yajima Maimi)
【Showtime『Dance battle』medley】Ooki na Ai de Motenashite→Koi ni Booing Buu!→○○ Ganbaranakutemo Eenende!!→LALALA Shiawase no Uta
MC4
Onna Bakari no Nichiyoubi (S/mileage)
Midnight Temptation (℃-ute)
Yumemiru Fifteen (S/mileage)
Chou WONDERFUL! (℃-ute)
ENCORE
MC5
Bonus: Noon Performance Video
Edit
Shooting Star (Wada Ayaka, Hagiwara Mai)
Blu-ray Special Bonus
Edit
Seishun Song (9 Screen Edit Ver.)
Onaji Jikyuu de Hataraku Tomodachi no Bijin Mama (9 Screen Edit Ver.)
Behind the Scenes
Featured Members
Edit
Tour Schedule
Edit
Date
Venue
Prefecture
Doors Open
Concert Starts
4/9
Nippon Seinenkan
Tokyo
13:30
14:30
17:30
18:30
4/10
13:00
14:00
17:00
18:00
4/16
Nagoyashi Kokaido Large Hall
Aichi
14:00
15:00
17:30
18:30
4/23
Morinomiya Piloti Hall
Osaka
11:30
12:30
15:00
16:00
4/24
Shibuya C.C.Lemon Hall
Tokyo
14:00
15:00
17:30
18:30
6/24
18:00
19:00
6/25
14:00
15:00
17:30
18:30
Total: 13 shows
External Links
Edit
℃-ute
Concerts & Events

Concerts

Spring Tours: 2007 (Hajimatta yo! Cutie Show, Golden Hatsu Date) | 2009 | 2010 | 2011 | 2012 | 2013 | 2014 | 2015 | 2016


Summer Tours: 2008 | 2009 | 2010
Fall Tours: 2007 | 2013 (Budokan, Regular Tour) | 2014 | 2015 | 2016
Winter Tours: 2012-2013 | 2017
Other: 2006 | 2007 | 2008 (LOVE Escalation!, ℃-ute no Hi) | 2009 (℃-ute no Hi, FIVE) | 2010 | 2011 (Kiss me Aishiteru, ℃-ute no Hi) | 2012 | 2013 | 2014 (Spring Naruchika, Taipei, ℃-ute no Hi, Fall Naruchika) | 2015 (Spring Naruchika, ℃-ute no Hi, Mexico, Winter Naruchika) | 2016 (Hong Kong & Taipei) | 2017 (Naruchika)

Other Concerts & Events
Joint Concerts
Spring Tours: 2008 (with Berryz Koubou) | 2011 (with S/mileage)


Fall Tours: 2011 (with Berryz Koubou) | 2013 (with S/mileage)
Other: 2014 (with Berryz Koubou)

Hello! Project Concerts
Summer Tours: 2009 | 2010 | 2011 (WOW WOW, YEAH YEAH) | 2012 (Ktkr, Wkwk) | 2013 (Sorezore!, Mazekoze!) | 2014 | 2015 | 2016


Winter Tours: 2010 (Mobekimasu!) | 2011 (A-gana, B-kkuri) | 2012 (Funky-chan, Rock-chan) | 2013 (Viva!, Bravo!) | 2014 (GOiSU MODE, DE-HA MiX) | 2015 | 2016 | 2017
Hina Fest: 2013 (Zen'yasai, Berryz Koubou 10 Nenme Totsunyuu Special, Thank You For Your Love!) | 2014 | 2015 | 2016
Other Concerts: Hello! Project ☆ Festival 2011 | Hello! Project Yaon Premium Live ~Soto Fest~ | Hello! Project COUNTDOWN PARTY 2013 ~GOOD BYE & HELLO!~ | Hello! Project COUNTDOWN PARTY 2014 ~GOOD BYE & HELLO!~ | Berryz Koubou Matsuri | Hello! Project COUNTDOWN PARTY 2015 ~GOOD BYE & HELLO!~