Ad blocker interference detected!
Wikia is a free-to-use site that makes money from advertising. We have a modified experience for viewers using ad blockers

Wikia is not accessible if you've made further modifications. Remove the custom ad blocker rule(s) and the page will load as expected.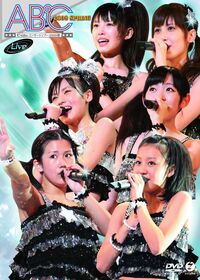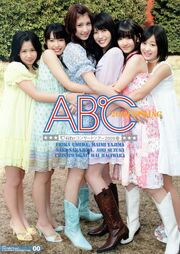 ℃-ute Concert Tour 2009 Haru ~A B ℃~ (℃-ute コンサートツアー2009春〜A B ℃〜) was ℃-ute's 2009 spring concert tour. The concert DVD was filmed on May 6, 2009 at Nakano Sunplaza. It was released on July 22, 2009.
The DVD ranked at #5 on Oricon's DVD chart and sold a total of 7,236 copies.
OPENING
★Akogare My STAR★ (★憧れ My STAR★)
VTR - Member Introduction
MC1  
Seventeen's VOW (セブンティーンズ VOW)
Namida no Iro (涙の色)
MC2 - Shittemasu Ko no Corner (知ってます子のコーナー; Know-It-All Girl Corner) - Umeda Erika, Okai Chisato, Hagiwara Mai
Meguru Koi no Kisetsu (めぐる恋の季節)
Yakusoku wa Toku ni Shinai wa (約束は特にしないわ)
MC3 - Yajima Maimi, Nakajima Saki
Seishun Song (青春ソング) - Yajima Maimi
Aishiteru Aishiteru (愛してる 愛してる) - Umeda Erika, Nakajima Saki
Homerare Nobiko no Theme Kyoku (ほめられ伸び子のテーマ曲)
VTR
Caroline Airi-sensei no Tap Kyoushitsu (キャロライン 愛理先生のタップ教室)
Sakura Chirari (桜チラリ)
Ooki na Ai de Motenashite (大きな愛でもてなして)
MC4
Tokaikko Junjou (都会っ子 純情)
Massara Blue Jeans (まっさらブルージーンズ)
JUMP
ENCORE
Bokura no Kagayaki (僕らの輝き)
MC5
Extras:
5/16 Saishuubi Special (Aichi) "♪Shochuu Omimai Moshiagemasu" (5/16最終日スペシャル (愛知) 「♪暑中お見舞い申し上げます」; May 16 Last Day Special (in Aichi) "Shochuu Omimai Moushiagemasu")
5/16 Saishuubi Special (Aichi) Making Eizou (5/16最終日スペシャル (愛知) メイキング映像; May 16 Last Day Special (in Aichi) Making of)
℃-ute no Tour Meisanhin Report (℃-uteのツアー名産品レポート; ℃-ute Tour Local Specialty Foods Report)
Featured Members
Edit
| Mon | Tue | Wed | Thu | Fri | Sat | Sun | Week Rank | Sales |
| --- | --- | --- | --- | --- | --- | --- | --- | --- |
| - | 1 | 5 | 6 | 8 | 9 | 12 | 5 | 6,250 |
| 17 | 14 | 19 | 17 | - | - | - | 19 | 986 |
Total Reported Sales: 7,236
Tour Schedule
Edit
Date
Time
Prefecture
Venue
April 11, 2009
14:30
Chiba
Matsudo Mori no Hall 21
18:30
April 12, 2009
13:30
17:30
April 19, 2009
15:00
Tokyo
Hachiouji Shimin Kaikan
18:30
April 26, 2009
18:30
Miyagi
Zepp Sendai
April 29, 2009
15:00
Tokyo
Nakano Sunplaza
18:30
May 3, 2009
15:00
Osaka
Osaka Kousei Nenkin Kaikan
18:30
May 5, 2009
15:00
Tokyo
Nakano Sunplaza
18:30
May 6, 2009
13:30
17:30
May 9, 2009
17:30
Hokkaido
Zepp Sapporo
May 16, 2009
15:00
Aichi
Chukyo University Center for Culture & Arts
18:30
External Links
Edit
℃-ute
Concerts & Events

Concerts

Spring Tours: 2007 (Hajimatta yo! Cutie Show, Golden Hatsu Date) | 2009 | 2010 | 2011 | 2012 | 2013 | 2014 | 2015 | 2016


Summer Tours: 2008 | 2009 | 2010
Fall Tours: 2007 | 2013 (Budokan, Regular Tour) | 2014 | 2015 | 2016
Winter Tours: 2012-2013 | 2017
Other: 2006 | 2007 | 2008 (LOVE Escalation!, ℃-ute no Hi) | 2009 (℃-ute no Hi, FIVE) | 2010 | 2011 (Kiss me Aishiteru, ℃-ute no Hi) | 2012 | 2013 | 2014 (Spring Naruchika, Taipei, ℃-ute no Hi, Fall Naruchika) | 2015 (Spring Naruchika, ℃-ute no Hi, Mexico, Winter Naruchika) | 2016 (Hong Kong & Taipei) | 2017 (Naruchika)

Other Concerts & Events
Joint Concerts
Spring Tours: 2008 (with Berryz Koubou) | 2011 (with S/mileage)


Fall Tours: 2011 (with Berryz Koubou) | 2013 (with S/mileage)
Other: 2014 (with Berryz Koubou)

Hello! Project Concerts
Summer Tours: 2009 | 2010 | 2011 (WOW WOW, YEAH YEAH) | 2012 (Ktkr, Wkwk) | 2013 (Sorezore!, Mazekoze!) | 2014 | 2015 | 2016


Winter Tours: 2010 (Mobekimasu!) | 2011 (A-gana, B-kkuri) | 2012 (Funky-chan, Rock-chan) | 2013 (Viva!, Bravo!) | 2014 (GOiSU MODE, DE-HA MiX) | 2015 | 2016 | 2017
Hina Fest: 2013 (Zen'yasai, Berryz Koubou 10 Nenme Totsunyuu Special, Thank You For Your Love!) | 2014 | 2015 | 2016
Other Concerts: Hello! Project ☆ Festival 2011 | Hello! Project Yaon Premium Live ~Soto Fest~ | Hello! Project COUNTDOWN PARTY 2013 ~GOOD BYE & HELLO!~ | Hello! Project COUNTDOWN PARTY 2014 ~GOOD BYE & HELLO!~ | Berryz Koubou Matsuri | Hello! Project COUNTDOWN PARTY 2015 ~GOOD BYE & HELLO!~